Table of Contents: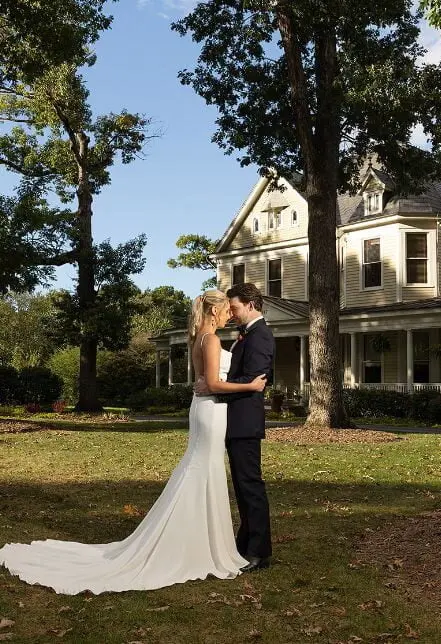 These Charlotte wedding venues in North Carolina will take your breath away.
Congratulations, you're engaged! Now is the fun part: planning your wedding. Trying to find the right wedding venue can be a daunting task. With so many options available, it's hard to know where to start.
You want your wedding day to be perfect, but how can you find the perfect venue? It seems like an impossible task.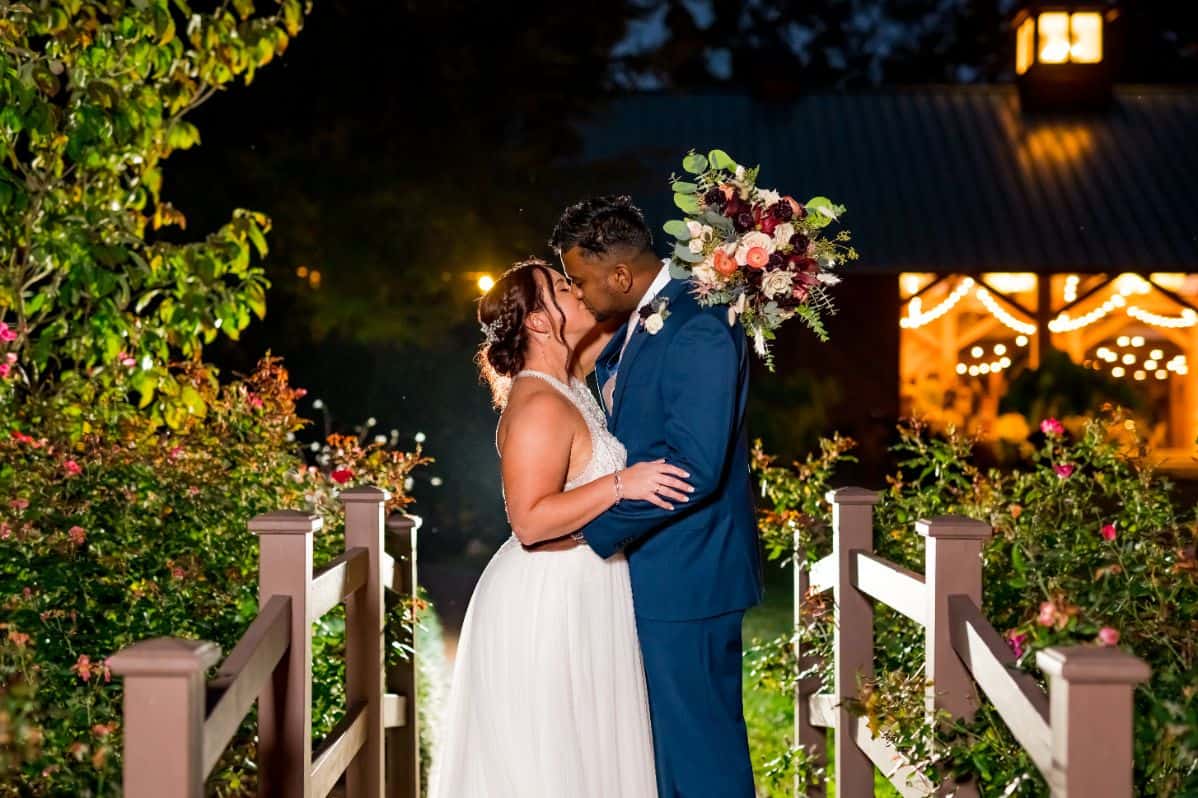 The Best Charlotte Wedding Venues in North Carolina
There is so much to consider when celebrating your wedding. Does the venue specialize in caring for wedding couples and have great reviews? Can it accommodate your entire guest list? Do you want a modern hotel located in a downtown area or a picturesque estate with gorgeous views and gardens?
We'll help you narrow down and figure out what matters most to you for your special day.
We've compiled a list of the top 25 breathtaking wedding venues in Charlotte, NC, including Alexander Homestead.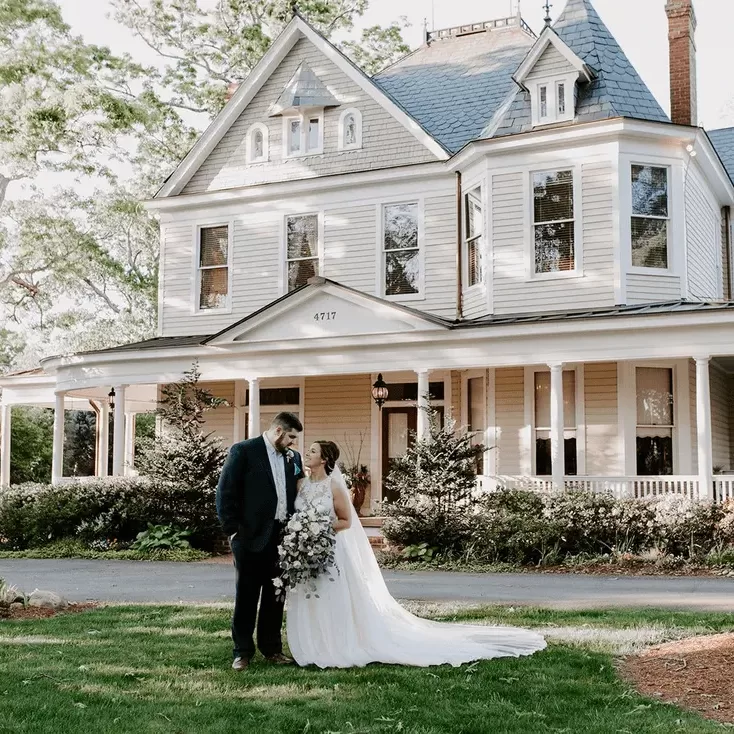 1. Alexander Homestead: Wedding Reception Venue in Charlotte, NC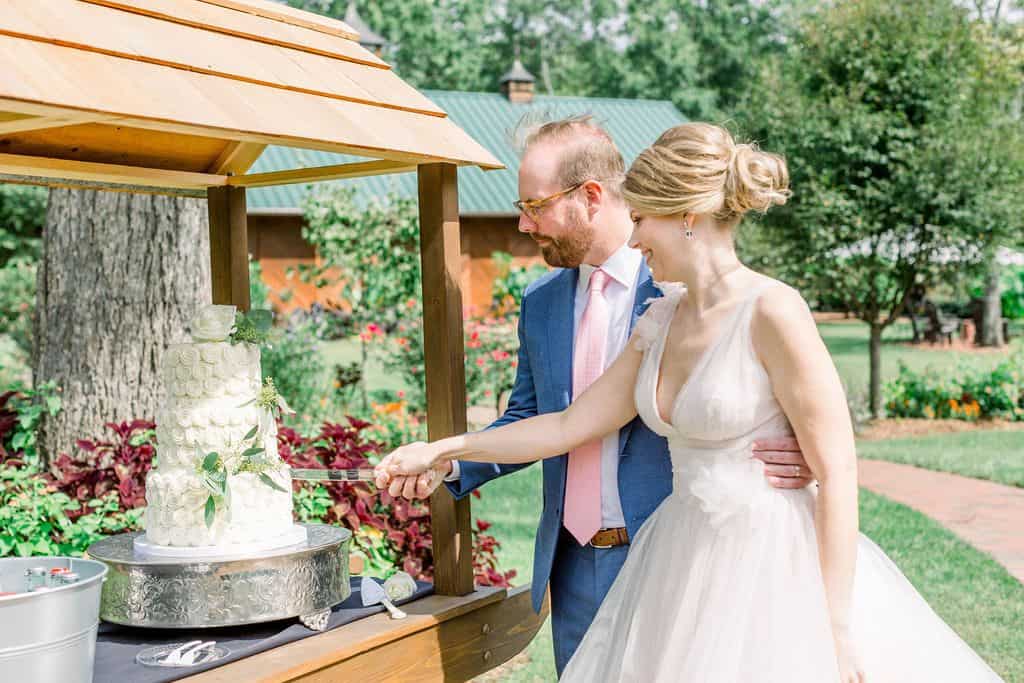 Experience the elegance and simplicity of a bygone era at our all-inclusive Queen Anne Victorian wedding venue, Alexander Homestead. Alexander Homestead has facilities and grounds for indoor and outdoor garden ceremonies and receptions. Our all-inclusive wedding venue has tenured wedding experts who provide and coordinate everything you need to bring your dream to life.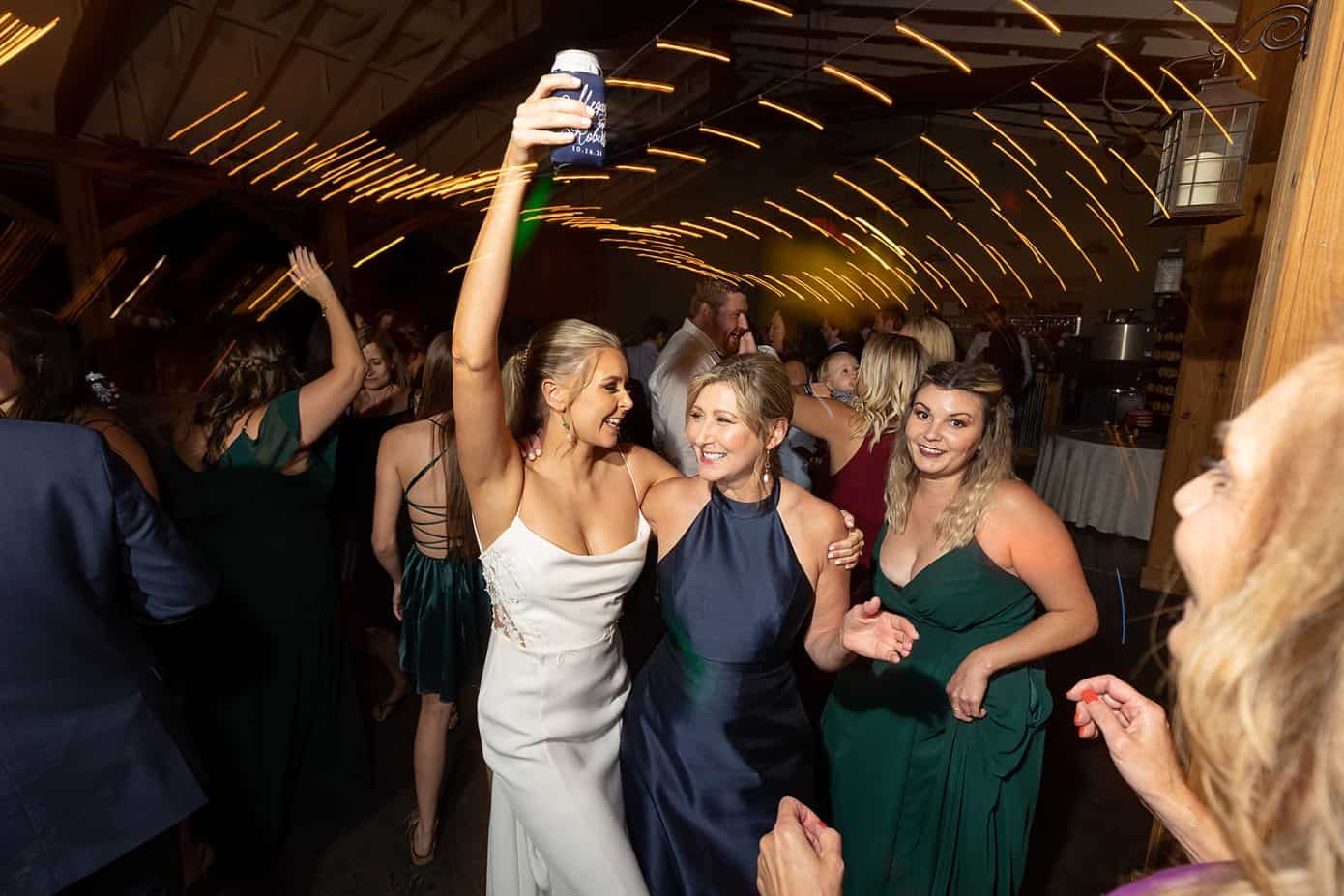 The Venue of Married at First Sight Charlotte NC S9
Alexander Homestead provides gorgeous views and has gorgeous indoors and outdoors. Our century-old trees and spacious lawns and gardens create a fairytale wedding. Everyone on your guest list will love our venue, offering dramatic settings right in the heart of Uptown.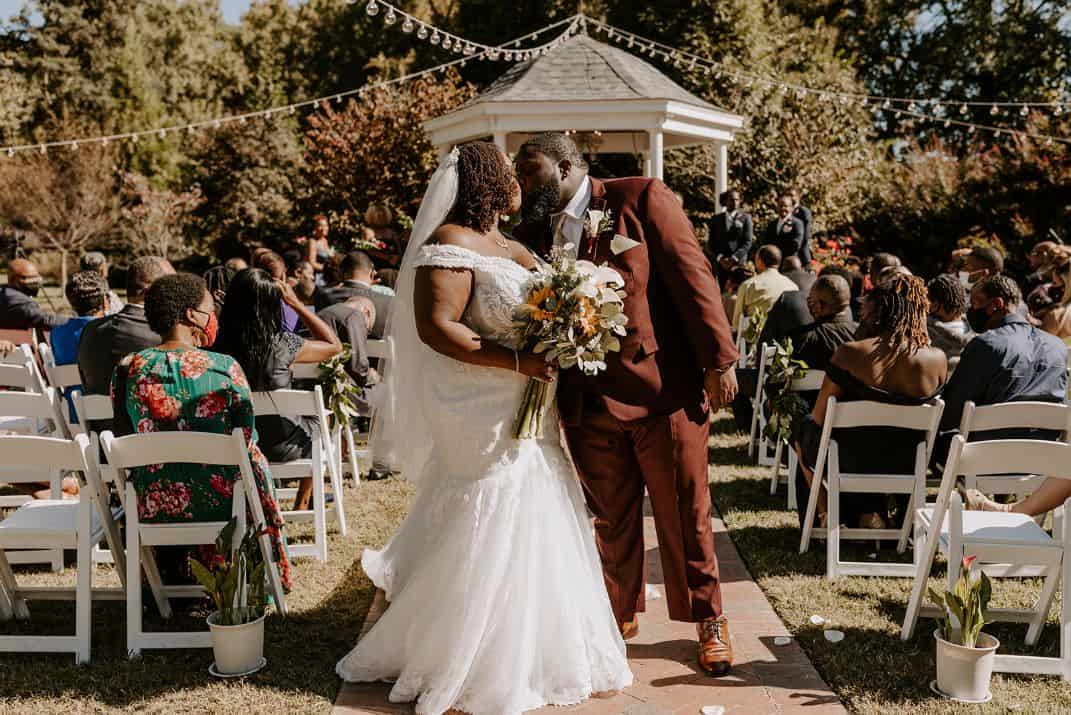 Outdoor Dream Barn Wedding Venues in Charlotte NC
Alexander Homestead is one of the best outdoor wedding venues in Charlotte – check our Google reviews! If you are interested in finding out more about wedding venues in Charlotte or need help planning your dream wedding day, please do not hesitate to contact our Alexander Homestead team.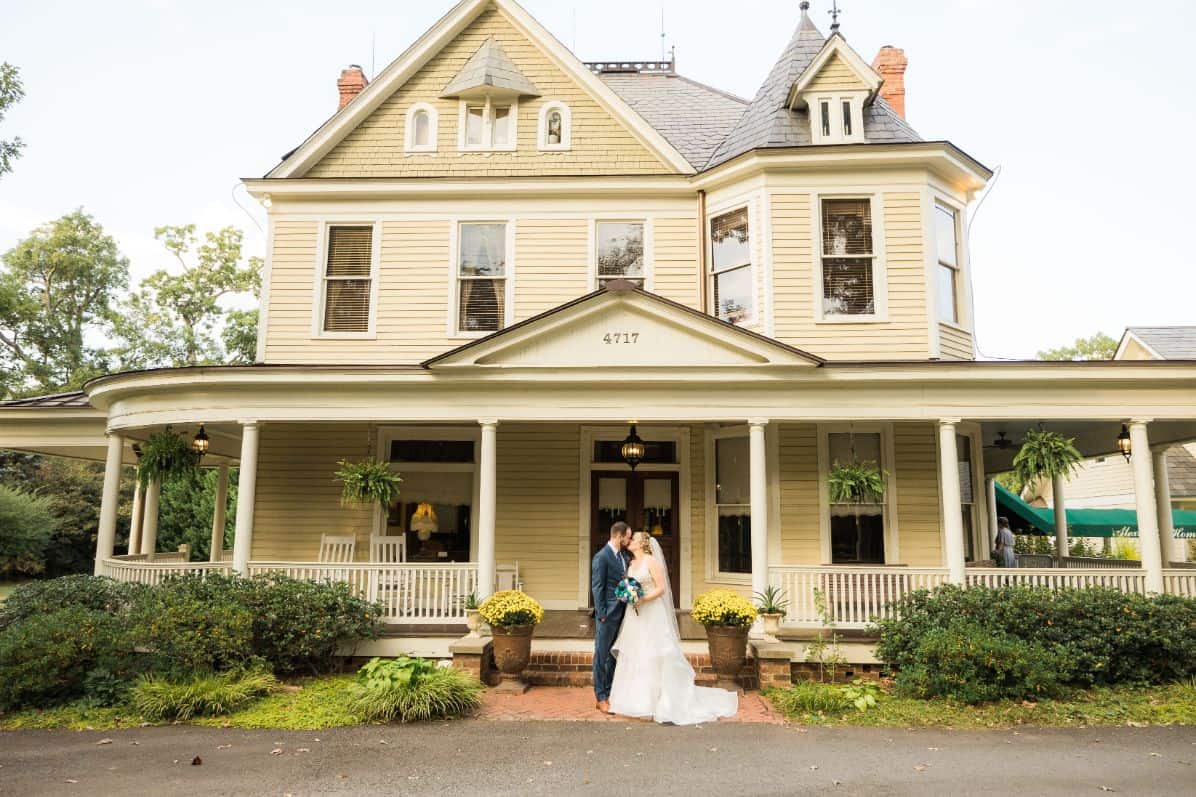 2. The Bottle Factory in Monroe, North Carolina
The Bottle Factory is a 10,000 sq. ft indoor wedding venue in Monroe, NC, once part of the 1927 Coca-Cola Bottling Company. This might be your venue if you want an industrial vibe, including exposed bricks, open beam ceilings, and hardwood floors.
3. Holiday Inn Charlotte-Center City
Holiday Inn Charlotte Center City is a modern wedding venue in Uptown Charlotte, North Carolina, offering indoor and outdoor sites for your ceremony and reception. Because it's only 8 minutes from Charlotte Douglas Airport, it's convenient for out-of-town guests. Wedding couples choose the Holiday Inn for its upscale accommodations, contemporary architecture, and convenience.
4. Olde Sycamore Golf Plantation in Charlotte, NC
Olde Sycamore Golf Plantation is an excellent venue for weddings and events. The venue is surrounded by open fields of lush green golf course and is only a few minutes from I-485. The venue has a range of event sites that can be adapted to your specific needs and accommodates around 120-160 guests.
5. Grand Bohemian Charlotte | Uptown Charlotte, NC
The Grand Bohemian Charlotte is a boutique hotel in uptown Charlotte, NC. The venue offers a variety of facilities, amenities, and accommodation options to make your wedding day unique, including a garden ceremony space.
6. Providence Country Club
6001 Providence Country Club Dr, Charlotte, NC 28277
Providence Country Club is a country club that also hosts weddings and events. Their package provides planning assistance and a menu from their executive chef.
7. The Regal Hall at Majestic Mill Weddings
406 Catawba Street, Belmont, NC 28012
Top Wedding Venues in North Carolina
Majestic Mill Weddings is one of the top wedding venues in North Carolina. Regal Hall is a 10,000-square-foot banquet hall area to host your reception. Prices for the venue only range from $2,995 – $5,995.
8. The Peninsula Club in Cornelius, North Carolina
The Peninsula Club is a wedding venue located in Cornelius, NC. It features 11 miles of Lake Norman's shoreline within its property, creating an elegant and relaxing atmosphere.
9. The Palmer Building
The Palmer Building is a historic wedding venue in Charlotte, North Carolina. This all-inclusive property offers a one-stop shop for all your wedding needs, including breathtaking views of nature. Steeped in history and surrounded by natural beauty, this venue is the perfect setting for a romantic wedding experience.
Top Wedding Venues in NC
The Palmer Buildings' rich history makes it one of the top wedding venues in NC. Their website is currently under construction as of February 2023, so you'll need to check their Facebook page for more wedding information.
10. The Big Chill in Charlotte, North Carolina
911 E Morehead St #100, Charlotte, NC 28204
The Big Chill is a large wedding venue with over 13,000 square feet. It features a 1,000-square-foot dance floor that keeps guests dancing all night. The venue can accommodate up to 650 guests for cocktails-style receptions and up to 300 guests for sit-down receptions.
11. Raintree Country Club
8600 Raintree Ln, Charlotte, NC 28277
Raintree Country Club offers several event spaces for weddings for 150-220 guests. Their Main Dining Room is ideal for 150 seated guests or 220 for a cocktail-style reception. What makes this room unique is the high windows that offer gorgeous views of the courtyards and lawns.
Banquet Hall Wedding Venue
Raintree features several areas, including the Main Dining Room mentioned above, Ballroom, Lakeview Room, and Fireside Room.
12. The Westin Charlotte
601 S College St, Charlotte, NC 28202
The Westin Charlotte is a hotel wedding venue in Charlotte, North Carolina. The hotel offers a relaxed and comfortable environment for guests to celebrate their weddings. The hotel has helpful staff and facilities which support a luxurious wedding experience.
13. Il Bella Gardens in Albemarle, NC
24767 Snickers Lane, Albemarle, NC 28001
Il Bella Gardens is a beautiful wedding venue located in Albemarle, NC. There are multiple spots for an outdoor ceremony area across their property.
Il Bella Colonna is a beautiful, intimate wedding venue with an open-air pavilion venue with various amenities, such as a dance floor, reception space, and cottage for the wedding party to get ready.
14. The Laboratory Mill in Lincolnton, North Carolina
848 Southfork Rd, Lincolnton, NC 28092
The Laboratory Mill is a popular wedding venue in Charlotte, North Carolina. The venue is perfect for a rustic, outdoor wedding. The scenic river and beach ceremony area behind the mill make for a beautiful setting. The venue recommends an indoor wedding with outdoor photos in all their beautiful grounds.
15. River Run Country Club | Davidson, North Carolina
19125 River Falls Dr, Davidson, NC 28036
The River Run Country Club team will help you design the perfect event, from customized tabletops and event diagrams to delicious menu tastings and handy bar packages. Their wedding package includes ceremony chairs, rentals, linens and napkins, china, silverware, glassware, and a dance floor! River Run includes menu tastings and cake-cutting services in their package.
16. Morning Glory Farm
9402, 6205 Kate Rd, Monroe, NC 28110
Morning Glory Farm is a family-owned wedding venue in Charlotte, North Carolina, boasting open pastures, a bucolic setting, and gardens. It is still a working farm and also features an onsite pond.
Unique Wedding Venues in NC
Morning Glory has been featured in the New York Times, Country Living, and Style Me Pretty.
17. The Oaks Events
628 Lovers Ln, Midland, NC 28107
The Oaks Events is a lakeside wedding venue with overnight accommodations and lots of charm.
Gorgeous Venue Near the Town of Midland with Lots of Charm
The Oaks Events offers a range of event spaces on 100 acres. Their bridal suite and overnight accommodations look out over the 4-acre lake – picturesque for wedding photos. They offer a day of all-inclusive packages. Their pricing is not on their website as of 2022, so you'll need to fill out their contact form to get that info.
18. The Saratoga Springs
Saratoga Springs is located in Mount Pleasant, NC featuring an outdoor garden space for your ceremony and an outdoor reception area.
5550 Cauble Rd, Mt Pleasant, NC 28124
Outdoor Wedding Venues Near Charlotte NC
The Saratoga Springs outdoor wedding venue, NC, has an impressive home and gardens that can be rented for your wedding day. It is located close to Charlotte, North Carolina. This dream wedding venue and impressive space provide some great inclusions and services
19. The 1932 Barn
3900 Rocky River Rd, Charlotte, NC 28215
The 1932 Barn is a popular wedding venue in Charlotte, boasting 100 acres of the natural landscape and beautifully manicured country gardens. With plenty of indoor and outdoor space for events, the reception area has a stunning rustic look and comfortably seats up to 146 guests. The 1932 Barn is ideal for romantic moments and photo opportunities, offering a wonderful mix of elegance and history. Couples will love to explore the venue's scenic areas and take advantage of its separate getting-ready rooms.
20. Separk Mansion in Gastonia, North Carolina
The Separk Mansion is a luxurious wedding venue in Gastonia, North Carolina. The venue can accommodate up to 250 guests for a ceremony and reception. Event spaces at the Separk Mansion include a ballroom with opulent chandeliers and a royal staircase with French doors that offer stunning views. The mansion also has in-house beverage and catering services, as well as in-house event planning services, for added convenience and luxury. Side note: we LOVE the windows at Separk – they're stunning!
21. Homesteads Events at Loray Mill | Gastonia, NC
Address: 300 S Firestone St, Gastonia, NC 28052
Homestead is a wedding venue in Gastonia that features an all-inclusive package. It's an excellent fit for a wedding couple looking for a more modern, industrial, and indoor feel
Garden Wedding Venues in Charlotte North Carolina
Daniel Stowe Botanical Garden
Daniel Stowe Botanical Garden is a beautiful wedding and events venue in Belmont, NC. With stunning indoor spaces like the Great Hall and the Orchid Conservatory and outdoor areas like the White Garden and the Crape Myrtle Grove, this venue is perfect for special occasions. Services vary depending on the package chosen but may include access to garden areas, rehearsal time, set-up and clean-up, event planning staff, and complimentary guest parking. The garden offers engagement and wedding packages, corporate and holiday rentals, portrait sessions, and birthday parties. Daniel Stowe Botanical Garden is an excellent option for an outdoor wedding, as it features a verdant utopia of manicured gardens, tranquil fountains, nature trails, and a conservatory for tropical plants and orchids.
McGill Rose Garden Ceremony and Reception
McGill Rose Garden is a stunning private getaway on the edge of the Noda Arts District in Charlotte, North Carolina. This venue is the perfect spot for an intimate wedding and is surrounded by lush greenery and magical garden settings. With a capacity of up to 100 guests, McGill Rose Garden offers a variety of packages, from ceremony-only to The Secret Garden package that comes with 12 hours at the venue, six hours of event time, event coordination, chairs, tables, decor, and floral design. They also provide a lighting package that includes café lights, twinkle lights, lanterns, up-lighting, and a vintage chandelier to make your special day even more picturesque. In addition, the venue partners exclusively with QC Catering and Rosie's Wine Garden to simplify your food and drink planning.
Mint Museum Uptown
Mint Museum Uptown is a museum wedding venue located in Charlotte, NC. This unique venue offers a variety of rooms, terraces, and gardens for couples to choose from, making it the perfect place for a wedding. This venue has something for everyone, from the atrium with its glass wall views to the shaded terrace with its open-air Charlotte views. Plus, the Grand Room upstairs has a gorgeous, open space for receptions accessible to the patio.
The Morehead Inn
For couples looking for a truly romantic wedding experience, the Morehead Inn is a perfect choice. This historic Dilworth home, located in uptown Charlotte, offers an elegant Southern estate setting with 12 guest rooms, exquisite architecture, gardens, and a front patio.
Sheraton Charlotte Hotel
Sheraton Charlotte Hotel is a unique wedding venue in uptown Charlotte, North Carolina. This modern hotel offers multiple indoor and outdoor settings for both your ceremony and reception, along with gorgeous views of the city's skyline. Your guests can enjoy luxurious amenities such as a Champagne toast, wine service with dinner, a full-service deluxe branded bar, butler-served hors d'oeuvres, and a custom-made Designer Bar Cocoa wedding cake. It can accommodate up to 450 guests for dinner.
Peninsula Yacht Club
Peninsula Yacht Club is the perfect place to have your wedding if you want a romantic lakefront view. The venue offers multiple indoor and outdoor options and is spacious enough to accommodate a larger guest count. The perfect backdrop to exchange vows and enjoy your reception, Peninsula Yacht Club overlooks the stunning shores of Lake Norman in Cornelius. With some of the best wedding photos ever taken here, it's no surprise why couples fall in love with the summer vibe that Peninsula Yacht Club has to offer.
Sonesta Charlotte Executive Park
Sonesta Charlotte Executive Park is a hotel wedding venue just five miles from Charlotte Douglas International Airport in Charlotte, North Carolina. Couples can enjoy a luxurious and elegant event with their choice of event spaces, including elegantly appointed 300-guest capacity rooms. Couples can also avail of the hotel's resort amenities, such as golf courses, spas and pools, while their guests can enjoy the many activities available in the vibrant neighborhood. The hotel also offers professional staff, onsite catering and banquet services, and ample free parking to ensure your perfect special day.
Woodhaven Mansion
Woodhaven Mansion is a beautiful wedding venue located in Charlotte, North Carolina, modeled after the Biltmore Estate in the Smoky Mountains and exuding Southern charm and French country architecture. Five minutes from downtown Charlotte, the luxurious venue offers an ideal location for up to 150 wedding guests, with all food and beverages provided by the hotel's executive chef and culinary team.
7 Barn Wedding Venues in NC
Barn wedding venues are popular because they offer a rustic and romantic setting. Many barn wedding venues in North Carolina would be perfect for your special day. It all boils down to your style and budget.
Barn wedding venues in Charlotte, NC, vary in style and offerings, from the vast, romantic barns like The 1932 Barn with its 100 acres of natural landscape, to the classic and elegant historic homes, to the modern and industrial venues. No matter what style you're looking for, the greater Charlotte area will have something for you.
Check out these top seven barn wedding venues in NC.
1. Lake O' the Woods Estate
1452 Davis Bugg Rd, Warrenton, NC 27589
Lake O' The Woods Estate is a mansion wedding venue in Warrenton, North Carolina. The private home sits on 85 acres, and the Manor House provides a spacious wedding space.
2. Otto Pond Events
2670 Coweeta Church Rd, Otto, NC 28763
Otto Pond Events is a stunning wedding venue in Otto, North Carolina. Bucolic countryside, woods, and lush greenery surround the waterfront venue. There are multiple indoor and outdoor ceremony and reception areas.
3. Sky Retreat
432 Cascade Dr, Purlear, NC 28665
Sky Retreat is a 30-acre wedding venue in Purlear, North Carolina. Featuring an expansive banquet hall with views of the Blue Ridge Mountains, this property features a scenic setting for special occasions.
4. Old Homeplace Vineyard
623 McGee Rd, Winston-Salem, NC 27107
Old Homeplace Vineyard is a scenic wedding venue and vineyard near Winston Salem, North Carolina. The property sits near rolling pasture lands of emerald green grass and vineyards and overlooks Lake Thom-a-Lex's northern shores.
5. Riverwood Manor in Harrisburg, NC
3450 State Hwy 49, Harrisburg, NC 28075
With the ability to seat up to 300 guests for cocktail receptions, Riverwood Manor provides a unique all-in-one venue for your wedding day. The indoor facility can also host up to 260 guests for outdoor ceremonies.
6. Green Gables Farm in Statesville, NC
2173 Wilkesboro Hwy, Statesville, NC 28625
Green Gables Farm is an outdoor wedding venue with picturesque rolling green pastures and majestic oak trees. The reception pavilion has a beautiful view of the surrounding countryside. Their website is pretty transparent with all their available dates and upfront pricing.
North Carolina Wedding Barns
Green Gables is one of the top North Carolina wedding barns, but they're not very close to Charlotte if that's where you have your heart set for your venue. Nonetheless, it's a superb option if you don't mind traveling a bit.
7. Firethorne Country Club in Marvin, NC
1108 Firethorne Club Dr, Marvin, NC 28173
The beautiful Firethorne Country Club in Marvin, NC, is the perfect venue for your wedding. With its stunning golf course views, this impressive space provides space and custom-designed menus. This makes it an ideal place to host your wedding.
That wraps up our top wedding venues in Charlotte NC and the best wedding venues in North Carolina. Did you figure out your venue or are you still having a hard time deciding on your type of wedding venue?
You can keep reading to learn more about the different types of wedding venues in North Carolina and some common FAQs.
Decision Factors to Pick the Best Wedding Venues in NC
Choosing the right wedding venue for your special day can be daunting; after all, it's where you will create memories that will last a lifetime! It's essential to consider your budget, the number of guests, and the style you're going for when deciding.
Start by listing what you and your partner envision for your special day. Do you want a downtown banquet hall, a countryside barn, or something in between the two? Once you have your list, look at the venues available in Charlotte, North Carolina and beyond. Be sure to evaluate each venue's amenities and read reviews from other couples who have had events there. With the proper research and planning, you can find the perfect venue for you and your partner.
A wedding's overall cost will be influenced by the number of guests, the size and venue of the wedding, the time of year, and other details such as entertainment, florist, photographer, videographer, and such.
Options for Event Venues in Charlotte NC
Many options accommodate any southern feel—from traditional barns to something rustic but elegant. Various venues offer different rental and base fees depending on details like time of year and the number of guests.
Wedding Packages in Charlotte NC
Many of the venues mentioned in this blog offer wedding packages. Some list their prices on their website, while others don't. Don't be discouraged if a venue doesn't list the price on their website – usually, when you reach out; they'll send that info right over. That's what we do at Alexander Homestead, and we have a range on our website too :)
Indoor Wedding Venues in NC
Some wedding venues in Charlotte, North Carolina, offer a better indoor event experience, especially at hotel venues. Hotel wedding venues may have some small outdoor spaces for your ceremony, but generally, the wedding takes place indoors, and the reception at a banquet hall. Not everyone wants to be outdoorsy, so a hotel might be a great choice if indoors is your style.
The Best Time and Places to Get Married in NC
Many couples opt for an outdoor wedding in Charlotte during the early spring or late fall seasons. However, if you opt for a summer or winter wedding, you can often save money at the venue. So, what is the best month to get married? It's really up to your preferences and budget.
Rustic Wedding Venues in NC
Our rustic wedding venue in NC is one of the best locations and neighborhoods for rideshare if you prefer that your guests handle their transportation.
While the cocktails are flowing (included in our wedding package), you can take photos underneath a lovely tree, on our bridge, and around our gorgeous gardens.
All-Inclusive Wedding Venues in Charlotte NC
All-inclusive wedding venues are popular because they offer a multitude of options when it comes to selecting the perfect wedding venue, such as spacious bridal suites, linens and napkins in your choice of color, catering, and drinks, complimentary parking for the couple and guests on the day of the wedding, menu tastings, centerpiece and decor items, and even planning assistance.
All-inclusive wedding venues in Charlotte, NC, are popular because they typically offer packages ranging from catering to decorations and furniture rentals. These venues also have ample space to accommodate couples with a larger guest list, such as 225 guests. Additionally, couples can save time and money in the long run by opting for an all-inclusive venue, as they will not have to pay for multiple vendors for their wedding services.
Types of Reception Venues in Charlotte
The city of Charlotte, North Carolina, offers a variety of options for couples looking for the perfect wedding venue. Historic mansions, ballrooms, gardens, and spiral staircases are available for weddings. Although there is no shortage of wedding venues, no two are alike in price, restrictions, inclusions, amenities, services, and more.
North Carolina Farm Wedding Venues
Farm wedding venues are ideal for couples looking for a laidback vibe on their wedding day. With the Andrews Farm in North Carolina, couples can take advantage of a bridal suite, and groom's lounge area and even rent a cabin onsite for an even more serene experience. The land is also perfect for outdoor ceremonies and receptions, with lots of flowers and greenery creating a stunning backdrop. If you're looking for a unique outdoor venue, check out Daniel Stowe Botanical Gardens, Magnolia Woods, which offers something unique and unforgettable.
Rooftop Wedding Venues in Charlotte NC
The best rooftop wedding venues in Charlotte, NC, are Holiday Inn Charlotte Center City and AC Hotel Charlotte Ballantyne.
How much does a wedding cost in Charlotte NC?
There are, of course, several factors that impact the cost of your Charlotte venue, which include; the number of guests invited, the services included (such as any rentals), and the type of venue (whether it is a luxury hotel venue or a relaxed farm/barn venue, etc.). According to the Wedding Report for 2019, couples spent $25,887 on their wedding. For that year, the guest number averaged 123 persons.
What is the best month to get married in North Carolina?
There is no definitive answer to the question of the best months to get married in North Carolina. However, there are a few essential things to remember when planning a wedding in the state. Firstly, choosing a large enough venue to accommodate your guests comfortably is essential. Secondly, you can pick a date within the peak wedding season to avoid high costs and large crowds.
Do you need a permit to get married on the beach Outer Banks?
No, you don't need a permit to get married on the beach in Outer Banks.
Can you get married on the beach in Corolla NC?
Yes, you can. You don't need a permit to get married on the beach in Coroll NC, unless you have over 100 wedding guests.
Good luck in your venue search!
Weddings are a special occasion. Make sure your wedding is as magical and perfect as possible by choosing one of these top 21 Charlotte NC, wedding venues. From intimate city halls to sprawling estates, we have everything you need to plan the perfect day. Celebrate with friends and family in one of Charlotte's most beautiful locations!